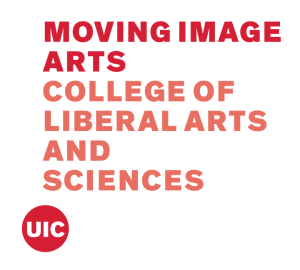 COVID-19 Resources for Film and Media Instructors
Teaching Tools and Resources
There are so many great guides and groups out there for best practices emergency teaching, remote teaching, and developing hybrid and online courses, including those offered by UIC's ACCC and Language and Culture Learning Center. To supplement their efforts, below you will find a few resources specific to topics covered in UIC's Moving Image Arts courses.
Critical Media Project (CMP) is a free media literacy web resource for educators and students (ages 8-21) that enhances young people's critical thinking and empathy, and builds on their capacities to advocate for change around questions of identity
The Modern Language Association created this open peer-review site for Digital Pedagogy in the Humanities: Concepts, Models, and Experiments, a curated collection of reusable and remixable pedagogical artifacts for humanities scholars in development by the Modern Language Association. Includes sections on analytical vocabulary and methodological tools/terminology.
The Audiovisual Lexicon for Media Analysis is a growing library of three-minute streaming videos, each of which features a different expert recruited from cinema and media studies faculty across the world explaining a specific critical media studies term and illustrating how it can be applied to analyze selected film, television, and media examples.
An overview of "Teaching, learning and working resources at UIC"
A pronunciation guide for media studies created by Jeremy Butler (University of Alabama)
The UIC Institute for the Humanities has created the resource page "The UIC Humanities in a Pandemic: Resources for COVID-19"
The UIC Library is maintaining the following guide to newly online and open-access resources for primary and secondary literature.
Latern is a search and visualization platform for nearly 2 million pages of digitized books and magazines from the histories of film, broadcasting, and recorded sound. An open access co-production of the Media History Digital Library and the University of Wisconsin-Madison Department of Communication Arts.
Online Film and Television
To assist faculty and instructors designing courses and to support students doing research and writing on film and television, we have compiled the following resources with pathways to film and television content online. When planning courses, be aware that the online landscape is changing daily, so not all resources will be available at all times. And note that not all of these sources are free and some are limited to personal, not public, viewing. These links are intended as productive starting points. To inquire about acquiring material for instructional purposes for a full summer session or semester, please contact Deb Blecic, UIC Libraries Collections Coordinator at dblecic@uic.edu.
Kanopy is the streaming service all faculty and students have access to through the UIC Library, as well as through many public libraries. To request a title from the Kanopy platform for classroom instruction, please use the request form that comes up in Kanopy or send a note to lib-electronic@uic.edu.
The Museum of Modern Art has released a comprehensive streaming list for a vast range of content, including a lot of silent, experimental, art and documentary titles.
A number of archives and independent distributors are streaming on a limited or extended basis with rotating content. Local programmer Patrick Friel and his group at Cinefile.org send out weekly emails and maintain this blog with timely recommendations.
Telescope is an online resource with pathways to international films
Elle Magazine published this overview of free (often on a limited basis) movies streaming online as of April 2020, including many popular titles.
Consumer Reports published this guide to fourteen ways to stream shows for free. Thousands of movies, TV shows and other programming via no-cost services. Caveat: you'll probably have to sit through ads.
updated 5.14.20